Word Race is a super fast and totally addicting multiplayer game for words lovers. Rearrange letters, find hidden words, link syllables…
If you are a fan of word-based puzzle games, then you'll fall in love with Word Race! Game is played by 8 players through 4 word riddles (Puzzle, Concat, Search and Connect). After each round players with the lowest score are eliminated. Game winner is decided in the final round – the clash of last three remaining players. Win by thinking fast! The faster you get it, the more points you get.
Strengthen your profile by collecting trophies, advance through the game and of course, share your scores with friends on Facebook.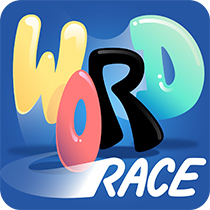 Great game, loving it so far.

Think fast. Remember the correct words. Fun.